Síntesis • Szintézis (2016)
Creación de • Created by Paloma Hurtado
Tiana
Concepto • Concept: Paloma Hurtado
Coreografía e Interpretación • Choreography & Performed by:
Paloma Hurtado
Música • Music
Kronos Quartet (Wa habibi)
Hans Zimmer (Time)
Olafur Arnalds & Nils Frahm (impro)
Max Richter (Sarajevo)
Mahler (Sinfonía nº5)
Textos • Texts
Fernando Pessoa
Paloma de la Cruz
Josep Mª Mercader
Interludio Pessoa • Pessoa Interlude
Drei
Ääniä / Desert Rose / Mintaka
Concepto e Interpretación • Concept & Performed by:
Samuel Aguilar & Paloma Hurtado
Texto • Text: John Cage (Silencio • Silence)
WEB SITE 
Tiana
I assume this day that I was born in a farewell age, that my first steps were the final steps of an outstanding person, that plain things -those plain things- are so necessary… I comprehend spiritual purity lives and breathes and you, my mother, my sister, my daughter, my friend, my lover, my soul mate, you are the PEACE BIRD, Paloma. I know well you did fly high for falling down afterwords into the harsh reality to build up a new present, a new future, pregnant with Bohemian Lights, with never ending memories…
Interludio Pessoa
Drei
Contemporary dance show composed by three pieces shown in the following order: Ääniä, Desert Rose and Mintaka. These three works are born fruit of the artistic and creative relationship between the composer and musician Samuel Aguilar, from Lanzarote, and the dancer Paloma Hurtado, from Malaga, whose career paths have been crossing in recent years, resulting in the need to work together on this common project. Drei was premiered on January 30, 2016 at the Victoria Theatre in Santa Cruz de Tenerife with very good reception. Here are the information about each of the works included in this show.
Ääniä
Taking as its starting point silence and as the main reference work study Silence, published in 1961 and which brings together lectures and writings by American composer John Cage, Aguilar and Hurtado take the challenge of working through this concept from the opposite site. Understanding the silence as the absence of sound, and thus, in a broader sense, the absence of movement, these two artists approach their own reflection on the silence with the creation of non-silence in one piece, from dance and from music. Can you find a sound that evokes the silence? Can a moving body express stillness, lack of movement?
You may find this piece in silence as a meeting place, as a language that art takes to say what otherwise can not be said; silence can emerge not only those unanswered questions, but what you want to hide: the fragility of life, the fullness that may involve open to perception, the door that allows us to leave the estrangement in which we immerse ourselves and allows us to see beyond the tumultuous mark that surrounds us modernity.
Desert Rose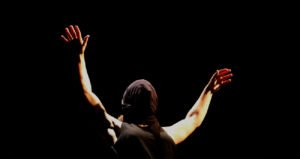 Deprived of liberty, without wings, with feet that sink into the infinite sand of a nameless desert… Me… No one… More endangered than never they believe defending and they get lost… they… No one. And to avoid it borns in me a dream of let go through the heart; a heart between trails and mountains, humble, at ground level.
Allá voy, allá voy, piedras esperen!
alguna vez o voz o tiempo
podemos estar juntos o ser juntos
vivir, morir en ese gran silencio
de la dureza madre del fulgor.
Alguna vez corriendo
por fuego de volcán o uva de río
o propaganda fiel de la frescura
o caminata inmóvil en la nieve
o polvo derribado de las provincias
de los desiertos, polvareda,
de metales,
o aún más lejos, polar, patria de piedra
zafiro helado
Antártida
en este punto o puerto o parto o muerte
piedra seremos, noche sin banderas,
amor inmóvil, fulgor infinito.
Mucho más alla…
Alejandra Pizarnick
Mintaka
«How beautiful is everything, the primeval dawn, borning every second, surprises us both. A common here and now, eternity. Nothing is what it was and everything is forever. Every blade of grass is a tree towering, wind and the wind is water fertilising the earth and the earth is meat and meat the woman and woman is singing and word song and word wind, water, earth, flesh, woman, instant, everything now and here. Eternity.»
Josep Maria Mercader
full videos 
Other Works
Bio
Paloma Hurtado
Born on February 7, 1987 in Malaga. In 2007 she obtains Medium Degree in Contemporary Dance at the Royal Conservatory of Dance of Madrid. She continued her training in Spain and part of Europe with teachers such as classical dance: Libby Farr, Elena Postigo, John King, Ximena Carnevale, Valery Kiryanov, Valentina Letova, Alexandra Ruiz Macias, Pino Alonso, Pedro de la Cruz, Gema Bautista (contemporary dance), Angelique Willkie (voice and movement), Benoît Lachambre, Elena Postigo, Karim Karim, Randall Scott, Jennifer Man (modern/contemporary), Jyrki Karttmen, Helge Musial (choreography), Olga Cobos (technical/choreography), Fernando Hurtado, Rasmus Ölme, Meike Schönhutte, Thomé Araujo, Joaquin Lopez, Jose Reches, Win Vandekeybus, Robert Haydn, Nordine Benchorf, Iñaki Azpillaga, Eduardo Torroja, Michelle Boullet, (tai-chi-chuang) Jose Sanchez, Carolin Carlson, Larrio Ekson, Alain Gruttadauria, Christine Tanguay; (Yoga) Fernando Vera, Kany, Jose Cao; (Butoh) Hisako Horikawa.
Participates as a dancer in several competitions of Dance (Madrid, Galicia, Andalusia, Castellón, Maspalomas, getting in the latter Honorable Mention for the best dancer). Performs various collaborations as a dancer in Andalusia (2001-2004) and Madrid (2004-2007). Since 2007 he lives in Tenerife and laboratory component of dance Tenerifedanzalab, where she has been a dancer for artists like Tino Fernandez (L'Explose), Anne Lebatarde (Ex Nihilo), Russian Edmond and Shlomi Twizer (Affari Esteri), Lea Martini and Chris Lauemberg (Collective White Horse), Ido Yoshiko, teacher and creator.
Piel de Arena arises in early 2014 with the intention of opening a space in which to question themselves through body language and landscape of the soul, allowing creators and viewers, share moments of reflection, which connect, recognize and open sensations and emotions. Somehow it aims to create a space-container works that has been created in recent years (Presence in the Absence, Dakini, Tulip on Dead Land, Träd, Tiana, Camille Claudel Bio-symphony) into the languages of dance contemporary dance and theatre.
"To live is to be in motion, dance is to feel alive."
Samuel Aguilar
Born in Lanzarote in May 1975, he began his musical studies in his native island to continue them for a year in the United States. He later received a scholarship from the Cabildo of Lanzarote to study in London under the supervision of the pianist Maria Garzon. He gets the title of Superior Professor of Music Theory, Music Theory, Transposition and Accompaniment, as well as Professor of Piano and Superior Professor of Harmony, Counterpoint, Composition and Instrumentation at the Conservatory of Music in Santa Cruz de Tenerife, where he studied, among others, Milena Perisic, Carlos Puig and Miguel Angel Linares. He has attended several courses in musical specialization among which include those taught by Samuel Adler, Guillermo Gonzalez, Joel Lester, Mikowsky Solomon, Jesus Angel Rodriguez, Herman Sabbe or Karlheinz Stockhausen. He graduated in English from the University of La Laguna. He has taught at the Conservatory of Music in Santa Cruz de Tenerife, and has also taught at the Conservatory of Music in Santa Cruz de Tenerife and the Conservatory of Music of the Canary Islands. He has given lectures and workshops on various aspects of music in different parts of the canary geography.
He has published numerous recording projects, the last of them on the way, published in 2014 and composed together with Fabiola Socas. He also composed background music for various public and private spaces as well as original music for documentaries, commercials, short films, feature films, audiovisual installations and theatre and dance.
They have been released his works in Germany, Australia, Belarus, Brazil, Canada, Colombia, Cuba, Denmark, Ecuador, Egypt, Spain, United States, Philippines, England, Reunion Islands, Italy, Malaysia, New Zealand, Poland, Senegal, Singapore , Sweden, Switzerland and Vietnam. Among recent projects include the music for the dance show Entomo, premiered at the Gran Teatro de La Habana (Cuba) by EA & AE, the music for the play Crime, which premiered at the TEA Tenerife Espacio de las Artes (Santa Cruz Tenerife) or the sound installation corner Secrets, presented at the CAAM (Las Palmas).